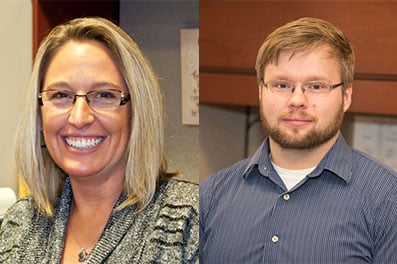 It is with great pleasure that I announce two promotions in the Accounting Department: Heather Carl has been promoted to Accounting Supervisor – Multifamily Operations and Jeremy Swanson has been promoted to Project Accountant.
Since joining Continental four years ago, Heather has become the primary accounting contact for our growing number of Springs Apartments communities. Heather has done a great job in keeping our home office connected to our individual Springs communities, solidifying our One Team approach.
In her new role, Heather will supervise all daily accounting activities related to our Springs properties. In addition, we are recruiting a new Accounting Coordinator who will report to Heather.
Last November, Jeremy joined our organization as an Accounting Clerk. He has been supporting our construction draw process. Working closely with contractors, banks, and members of our own construction department, Jeremy has helped gather and review the appropriate documentation to ensure timely and reliable payments to our General Contractors.
Jeremy has demonstrated a desire and ability to learn about our business and has fully ingrained himself in our processes and procedures. With Sneha's recent move to the tax department, Jeremy's new role will primarily involve managing, rather than supporting, the construction draw process.
Please join me in congratulating Heather and Jeremy on their promotions and in wishing them continued success.