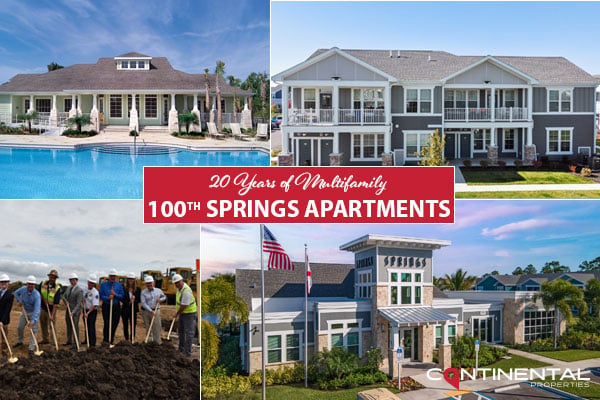 Today we celebrate an exciting milestone in Continental's history, as Springs at West Port broke ground in Port Charlotte, FL, becoming the 100th Springs community developed by Continental Properties.
"For the past 20 years, Springs Apartment communities have been a welcoming and comfortable home to hundreds of thousands of families." said Jim Schloemer, Co-Founder and CEO of Continental. "We warmly thank these residents for the trust they have placed in Continental by choosing to live with us, and gratefully recognize each of our team members for their efforts every day to create communities that enhance people's lives."
First introduced in 2001, Springs was the first of three brands in Continental's portfolio of rental homes, joined by the recent additions of Authentix (2020) and Avanterra (2021).
"Continental is the nation's leading developer of garden-style apartment communities and is consistently one of the top developers of multifamily apartments", said Kim Grimm, EVP of Development, Design & Construction. "The Springs brand is a tremendous community of homes that residents love, and we look forward to continuing to innovate and grow this brand for a long time."
Congratulations to our entire Continental family for the fantastic work that led to this achievement. To learn more about a rewarding career at Continental and become part of our next 100 communities, visit our open careers.
About Continental Properties
Continental Properties is a Wisconsin-based national developer and operator of rental housing, retail, and hospitality properties. Since its inception in 1979, Continental Properties has developed over 100 apartment communities encompassing more than 28,000 apartment homes in 19 states. Currently, Continental Properties owns and manages 62 communities comprised of over 16,500 homes in 13 states. For more information about Continental Properties, visit www.cproperties.com.