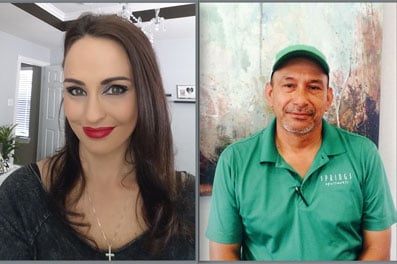 With five Springs communities in the San Antonio area, it is naturally a place where talent is germinated. Today I am pleased to announce two promotions within our San Antonio-area teams.
Jenni Gonzales has been promoted to Property Manager at Springs at Bandera. Jenni has been serving as Assistant Property Manager (APM) at Springs at Stone Oak Village since 2014. She started with Continental as a Leasing Agent in 2011, and has helped out in different capacities at various Springs communities over the years. She recently graduated from the our APM Development Program, and we look forward to seeing her use her skills at the property where her Continental career started!
Pete Moreno has been promoted to Maintenance Supervisor (MS) for Springs at Creekside in New Braunfels. Pete has been a Maintenance Technician at Springs at Stone Oak Village since 2014, but has been working as the acting MS at Springs at Creekside since March, 2016. He has proven to be an excellent example of the dedication to customer service, which will serve him well in his new role.
Congratulations to both of you on your new positions!