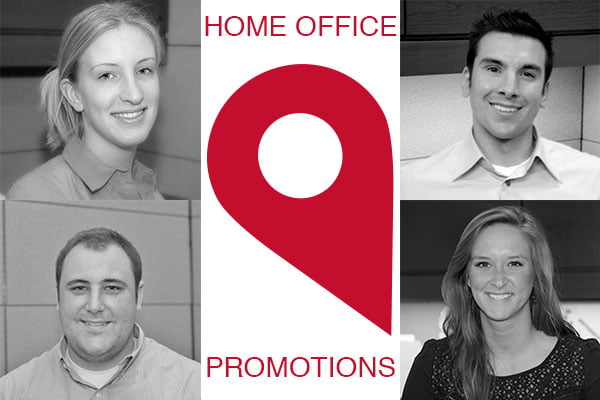 I am pleased to announce several promotions in the Development Department.
Sara Johnson has been promoted to Senior Development Director. Sara's Continental career path is a tremendous example of continuous growth. She started as a temporary CAD Tech in 2004. Soon after she was hired as a Land Planner. She then moved up to Development Coordinator, then to Development Associate, and then to her most recent position, Development Director. Along the way, she was also our Design Manager.
Sara's many successes throughout her career make her an excellent fit in her new role. She will manage and mentor team members, continue to help entitle and permit projects, and assist in updating and improving systems.
Erik Hahn has been promoted to Director of Multifamily Acquisitions. Erik is another Continental career growth success story, having started in 2007 as a CAD Tech. The work he did then is now the standard of our current Land Planner position. He was later promoted to Development Coordinator, Development Associate and then his most recent role, Development Director.
Through his career he has always pushed himself to achieve more, and has been a master at finding efficiencies in projects and building our Springs brand. He is an excellent leader, shows great dedication and determination and keeps raising the bar higher for himself and his peers. He will now utilize his considerable skills to source new sites for additional Springs communities and lead a team to execute those projects.
Elizabeth Adler has been promoted to Development Associate. Elizabeth began her career at Continental in October of 2014, working part time as Land Planner while pursuing a master's degree at UWM. She joined Continental full time after graduation in June of 2015. She has contributed significantly to seven projects currently under construction. If asked about her character, Elizabeth's colleagues would likely describe her quick wit, willingness to assist on any task, and ability to learn on the fly, along with her indomitable enthusiasm and team spirit.
Eric Gumm has been promoted to Development Associate. Eric joined Continental in June of 2015 after working as an Associate Landscape Architect with David J. Frank. He quickly jumped in to assist the team with his site planning skills and impressed us with his eye for detail. He revamped our Landscape Design Criteria document to create clear guidelines on our expectations for new Springs communities. Eric has a fantastic "whatever it takes" attitude, and was quickly asking what he could help with on project entitlements.
Please join me in celebrating the career development of these four team members. They truly represent the best and brightest and I look forward to seeing them flourish in their new roles.
Topics: