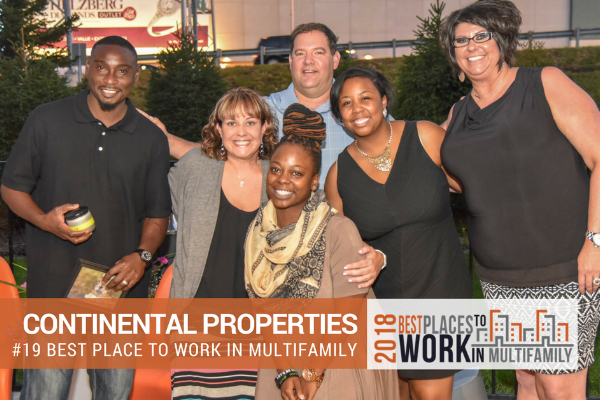 Continental Properties was named 19th nationally as the Best Places to Work in Multifamily™. The annual list of "Best Places to Work" was published by Multifamily Leadership.
This is great accomplishment for Continental and each of us. The procedure for evaluation of each company was an in-depth process. The committee evaluated each company's employee policies and procedures as well as responses from our onsite Springs team members through a two-part survey completed earlier this year measuring the employee experience. The combined scores determined the top organizations and the final ranking. This program is part of a long-term initiative to encourage growth and excellence throughout the Multifamily Apartment Industry and to attract new leaders in the industry. Today's multifamily organizations are not just competitive in product and technology provided, but also by quality of experience for our team members in the workplace. This area remains a top challenge for organizations, a forward thinking leadership strategy is key to creating and sustaining a competitive advantage. Continental has proven, based on our practices and team member responses, to be among the best in this area within multifamily.
"We are committed to creating opportunities for others by serving as a magnet for the best and the brightest who share our values while offering new perspectives and creativity generated from diverse experiences and interests." As part of our Creed, we hold this commitment to the highest standard and put great emphasis on our people. It is the people and their drive and desire that makes Continental who we are today. This award is evidence that our entire organization takes our Creed to heart and strives everyday to be "the Best and Brightest."
We are very proud of this accomplishment and thank you all for your contribution to make Continental Properties a great place to work in Multifamily!