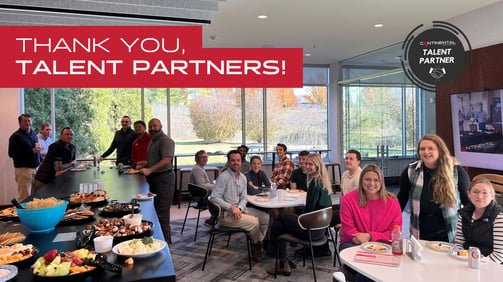 MILWAUKEE, Wis. — Earlier this year, Continental's Talent Acquisition team introduced the Talent Partner Program, an initiative strategically designed to elevate our talent outreach strategy and foster robust partnerships with colleges, universities, and organizations. Our Talent Partners are current Continental team members selected from different departments across the company who embody a passion for their work, contribute to fostering our culture of belongingness, and generously share their wealth of knowledge and experience with others.
Within Continental's outreach and relationship strategy, Talent Partners serve as departmental representatives and culture ambassadors during community and partnership events. Our Talent Partners have made a significant impact at a multitude of engagement opportunities spanning career fairs, networking events, board meetings, panel discussions, student professional development activities, alumni banquets, and presentations with our university and organization partners, including but not limited to:
All-In Milwaukee




UW Madison Real Estate Club

UW Madison American Society of Civil Engineers

Milwaukee School of Engineering

UW Milwaukee

NAIOP/CRE Immersion Program

UW Platteville

WCREW

Waukesha County Technical College
Our Talent Partners are key to building relationships with students and early-career professionals by sharing their unique perspectives, career experiences, and knowledge about the Real Estate industry with individuals interested in developing their careers and learning more about Continental.
"Connecting with students on their career interests and aspirations has been so rewarding and I am very grateful to work alongside our Talent Partners who bring their unique perspectives and experiences to the conversation," said Daisy Zodrow, Relationship Specialist and leader of the Talent Partner Program. "Our Talent Partners have made Continental's outreach and partnerships across different organizations and campuses possible, and I am so excited for this program to continue to grow each year."
The Talent Partner program is mutually beneficial, providing our partners with opportunities to develop essential skills including relationship building, expanding industry knowledge, and fostering interdepartmental collaboration.
As a token of appreciation for their valuable partnership, Continental hosted a celebration at the home office on November 15th, 2023, to commemorate the achievements of our inaugural group of Talent Partners and celebrate the program's successful first year. We extend our gratitude to our 2023 Talent Partners for their commitment to making Continental better than ever before:
Erin Conway, Senior Development Director
Brent Ellifson, Director of Preconstruction
Aaron Konop, Portfolio Manager
Nancy Mutsch, Senior Project Manager
Max Saichek, Development Associate
Justin Sell, Director of Construction Analytics
Daisy Zodrow, Relationship Specialist