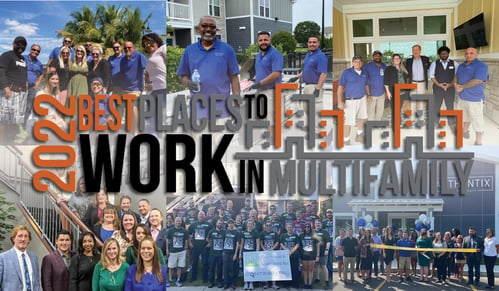 For the 5th consecutive year, Continental received recognition as being one of the Best Places to Work in Multifamily™.
At Continental, our approach of developing team members to be agile, results driven, accountable, and empowered has created a strong and differentiated culture for our company. And ranking in the Best Places to Work in Multifamily is a true testament to the people that drive this culture every day – our team members. We empower our people to create a work environment they are proud of, as we believe that every team member is the CEO of their area of responsibility.
"For over 40 years Continental has taken pride in our culture of respect, rooted in our Continental Creed. Each of our team members plays a unique and critical role in doing what we do best: building communities that enhance people's lives. We show up every day, in person and remotely, to care for our customers and for each other."
-Heather Riggs, Vice President of Multifamily Operations

We are proud to congratulate our team members, who are the reason that this recognition is possible. If you want to learn about a rewarding career in multifamily at Continental Properties, please visit Our Careers Guide.