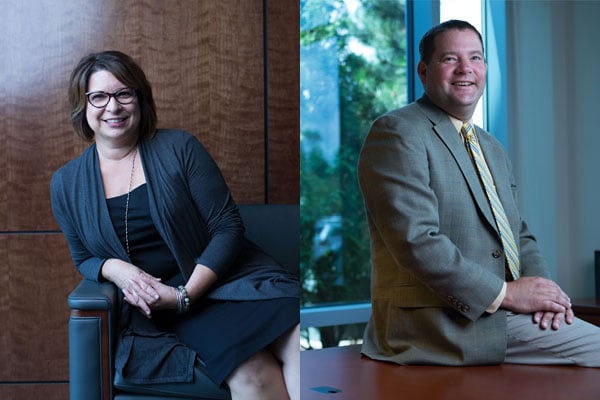 Josh Gunn, Vice President of Human Resources and Chief Legal Officer, recently announced his retirement after 13 years with Continental. We are all grateful for the contributions Josh made to the company during his tenure and wish him the best in his new endeavors.
As is Continental's tradition of first looking within to fill vacant positions, we did not have to look too far to find two excellent leaders who possess the talent and experience necessary to hold the top positions in these two important areas. Continuing the tradition, two veteran Continental leaders will take on added responsibilities and assume these duties.
Kim Grimm will lead the Human Resources Department, while continuing her leadership of the Development Department. Her new title will be Executive Vice President of Development and Chief Talent Officer.
Paul Seifert will lead the Legal Department, while continuing his current role of leading the Multifamily, Commercial and Hospitality Operations. Paul's new title will be Executive Vice President of Operations and Chief Legal Officer.
A little bit of history on both Paul's and Kim's tenures at Continental is in order, as these announcements today mark another chapter in their long and successful careers at Continental. Paul is a 15 year veteran, joining the company in 2001 as a Corporate Attorney. He was elevated to General Counsel in 2004 and stayed in that position until 2008, when Josh moved into that role. Paul has been leading our Hospitality Operations since 2006, Commercial Property Management since 2008 and the Springs Multifamily Operations since 2011. As mentioned, he will continue to oversee these departments and will take on the added duties of overseeing the Legal Department. Kim is a 21 year veteran of Continental. She joined the company in 1995 as a Development Coordinator. Four years later, she was promoted to Development Director and in 2008, she took over as head of the Development Department. She will continue to oversee the Development Department while overseeing the Human Resources Department.
As a company, we are fortunate to have two experienced leaders in Kim and Paul who are able and willing to step up and take on these new roles. Please join me in congratulating Kim and Paul on their promotions to Executive Vice Presidents of Continental.