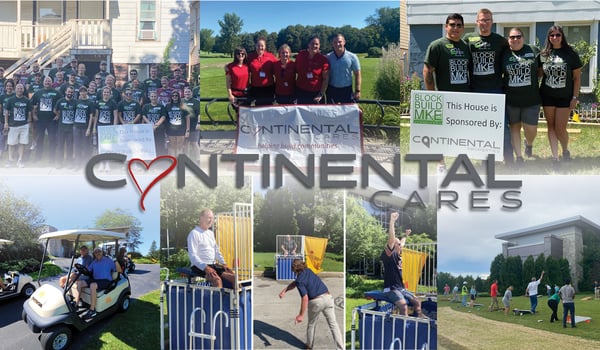 Continental's core mission is to create communities that enhance people's lives. Our team members are committed to giving back to the communities we serve. In the spring of 2018, our Continental Cares committee was formed to identify charitable opportunities that closely align with Continental's core values, beliefs, and work ethic. We partner with charitable organizations that allow us to create a safe and inviting community for people to gather
,
and provide our team members with the opportunity to volunteer and raise monetary donations. We are excited to share that Continental Cares raised over $75,000 in 2021 to be donated to our charitable partners: Revitalize Milwaukee, Wisconsin Honor Flight, and Ronald McDonald House.
Revitalize Milwaukee is the largest provider of home repairs to eligible homeowners in Southeast Wisconsin. In 2021, Continental sponsored two homes at the annual Revitalize MKE Block Build, a weekend-long event dedicated to refurbishing homes in vulnerable neighborhoods in Milwaukee and Waukesha County. Our team members spent the weekend providing necessary modifications to ensure Milwaukee homeowners could continue to live in their homes safely. We are proud to support Revitalize Milwaukee and all they do to restore communities for vulnerable and low-income seniors, veterans, and individuals with disabilities.
Wisconsin Honor Flight provides United States war veterans an all-expense-paid trip to visit Washington D.C. to view their memorials and experience a day full of honor and thanks for their service to our country. Continental is honored to be able to provide 20 Wisconsin veterans the opportunity to experience an Honor Flight in the Spring of 2022.
Ronald McDonald House is dedicated to providing a place to stay for families whose children are receiving medical care in Milwaukee. Continental provided a donation towards the Ronald McDonald House building expansion as well as meals, snacks, and overnight stays for families in need. In addition, Continental partnered with the Milwaukee Admirals hockey team during their 2021-2022 season. For every assist the Admirals make this season, Continental Cares will donate $10 to the Ronald McDonald House and the Admirals will match our donation. A grand total contribution will be provided to Ronald McDonald House this April.
Our Continental Cares committee hosted several fundraising opportunities throughout the year for our team members. Events included a dunk tank contest, a corn hole 'bags' tournament, and our 2nd annual golf outing. Thank you to the Continental Cares committee for their hard work and dedication to our charitable partners, and thank you to our team members for their volunteer hours and donations to our communities. We look forward to continuing our partnerships with Revitalize Milwaukee, Wisconsin Honor Flight, and Ronald McDonald House in 2022 and giving back to our local communities.
About Continental
Continental Properties is a national developer and operator of multifamily communities, retail, and hospitality properties. Since its inception in 1979, Continental Properties has developed over 100 apartment communities encompassing more than 28,000 apartment homes in 19 states.