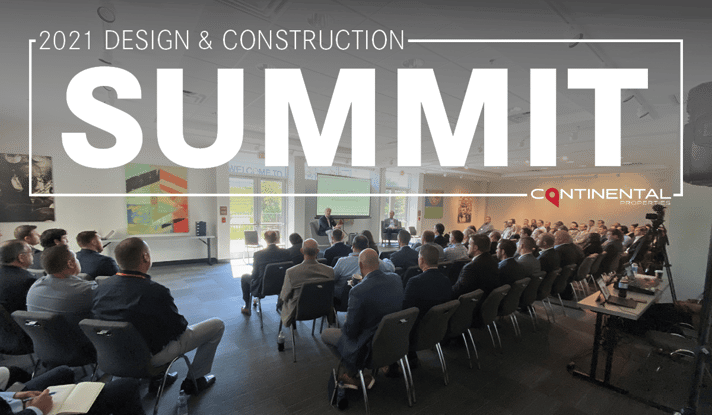 Last week, Continental Properties hosted its 6th annual Design & Construction Summit at the Aloft Hotel in Rosemont, IL. Continental invited our General Contractors, Architects, Civil Engineers, Interior Designers, and National Suppliers to hear presentations on emerging technologies, Continental's design and construction updates, and future opportunities. The event offers an opportunity to share successes, lessons learned, best practices, new materials, and innovations. A key goal of the Summit is to retain strong connections between Continental and other critical firms on whose work we rely to build our communities.
Our two-day event began with an introduction from Jim Schloemer (CEO) and Dan Minahan (President), who shared their strategic vision for Continental over the next ten years. The day was spent discussing Continental's industry outlook, multifamily pipeline, our new customer experience measurement program, and emerging technology with our partners.
Later that day, Continental presented awards to four construction partners for outstanding project recognition. Horizon Group, Rohde Construction, and Wieland Construction received the Quality, Time & Cost (QTC) Award for their exceptional work on Continental's multifamily projects. Lott Brothers Construction received the Raise the Bar Award, recognizing their willingness to go above and beyond in assisting Continental with projects in several markets, but specifically for rapidly conducting repairs after our Springs at Country Club project was severely damaged by Hurricane Laura. We appreciate the dedication of these partners, and all partners, in helping Continental create lasting communities across the country.
The final day covered presentations by several national vendors, including SmartRent, Delta Faucets, and Huber Engineered Products, presentations by Manhard Consulting on SiteOps as well as a discussion of our ongoing Procore rollout. It ended with attendees dividing into groups for breakout sessions to discuss industry best practices regarding geotech data, utility research, grading analysis, and improved pricing strategies. These breakout sessions proved an invaluable way to obtain alternative perspectives on the challenges we collectively face and yielded several ideas to improve our processes moving forward.
Congratulations and thank you to all who contributed to the Design & Construction Summit's success, including Paul Vastag, Joe Bagby, Kaylin Tucker, Kim Grimm, Ravshan Babakhodjaev, Justin Sell, Jake Fon, Steve Yahnke, Eric Gumm, Fred Hood, Erin Conway, Konrad Roznik, Ben Lang, Daniel Hasbani, Gwyn Wheeler, Kelly Luther, Jake Meier, Annie Weber, and Samantha Hanson; as well as our sponsors, SmartRent, 84 Lumber, Delta Faucets, Sherwin Williams, Goodman, Huber Engineered Woods, Patrick Industries and Spectrum Kwikset.