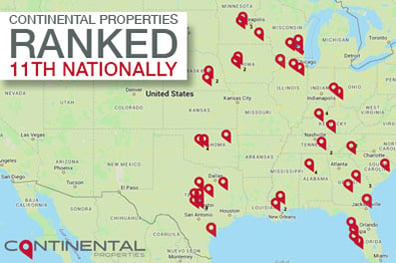 The National Multifamily Housing Council (NMHC) is the premier organization representing the nation's apartment industry by political action and public relations. It is also a massive collector of industry data, and they recently published a list that caught our attention: the 25 Largest Apartment Developers in the U.S.
It caught our eye because it shows that there is robust growth in our industry, which we believe is here to stay for some time, considering very measurable demographic trends. It also caught our eye because the list is populated with many fine companies that share our goal of providing good quality homes for millions of Americans who choose not to own houses at this stage of their lives.
But mostly it caught our eye because of who is not on the list - Continental Properties! In 2014, Continental commenced construction on 2,496 apartment homes and in 2015 we started 2,896. Breaking ground on a total of 19 communities with 5,392 homes makes us the country's 11th largest apartment developer in the last two years. We are not on this published list because traditionally we have been pretty quiet about our accomplishments.
A few years ago we set out a very aggressive 5-year growth plan. Due to the dedication, incredibly hard work and amazing talent within our Continental team, we have easily met those growth goals, and we're not done. 2016 is already off to a blazing start!