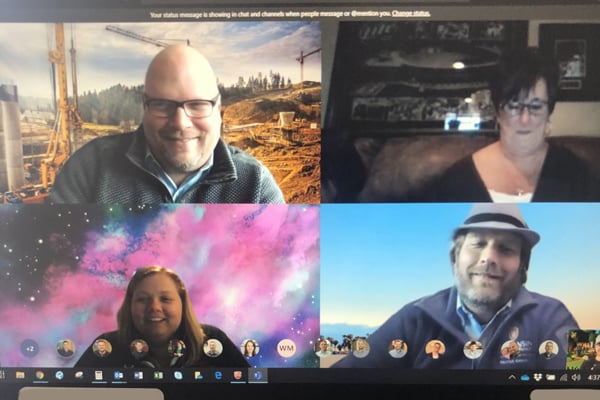 Top: left-right, Ryan Folger, EVP of Design and Construction and Kelly Luther, Procurement Manager. Bottom: left-right, Caitlin Duerr, Construction Project Engineer and (sporting the fedora to match his virtual beach background) Eric Ellison, Director of Construction.
We have all heard of a team outing, where you all meet up at your local bar or social events club to hang out and bond as a group of professionals; but what about a team "in-ing"? Well, that is what Continental's Construction Department did last Friday.

During this unique time of 'stay in place', companies have to find ways to not only continue to grow their businesses, but continue to bond as professionals. Twenty-two members of Continental's Construction Team met virtually for a BYOB trivia night, with the winning teams donating their prize money to Aurora Health Care Relief Fund for Critical Care.
This shows great initiative by our Construction Department to continue working on our team growth through tough times. At Continental, we pride ourselves in our willingness to embrace change, and that is precisely what our Construction Department has done.
Here is one of the trivia questions from that night: At Continental Properties, we strive for Absolute____.
Integrity
Power
Honesty
Vodka
(the correct answer was C, but D won the humor vote!)