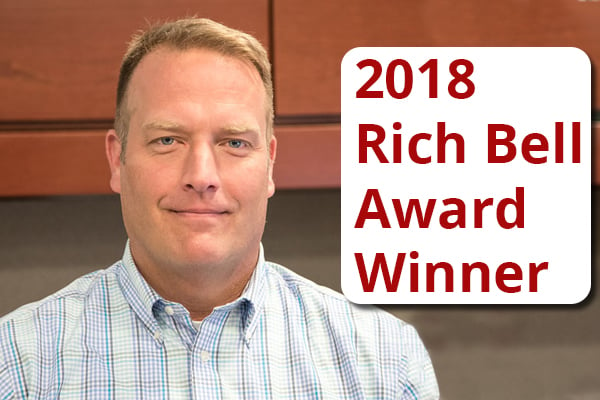 During Continental's 2018 "State of the Company" event, Eric Ellison was named the 2018 Rich Bell Award winner. This recognition is given every year to the individual who most embodies the leadership and teamwork characteristics of Rich Bell, one of the three founders of Continental and is a cherished Continental moment. Rich's commitment to respect for all he encountered as well as his willingness to go above and beyond expectations in all of his tasks created the foundation of our culture.
Eric joined Continental in May of 2016 as a Construction Project Manager for Springs Team 1. In 2018, he was promoted to Director of Construction. Eric truly embodies the Continental Creed, and spares no effort to ensure that we deliver high value to our customers. In his short tenure at Continental, he has successfully overseen construction on our Springs projects in Grand Rapids, MI, North Aurora, IL, Kenosha, WI and South Elgin, IL. All four of which were delivered under budget and ahead of schedule.
When asked about his personal mantra, Eric said he had two. The first is:"Dance like no one is watching" - Calvin and Hobbs, which fits Eric's humor perfectly. His second is a poem by William Cullen Bryant, Thanatopsis.
Congratulations, Eric, on this well-deserved award! Rich would be proud.