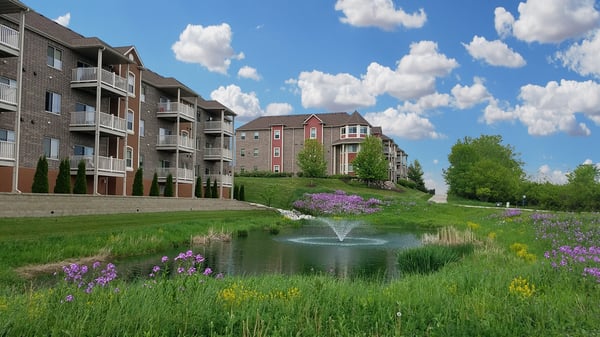 Last month, Continental Properties welcomed a new property, Greenfield Highlands, to our family of luxury multifamily communities. While Continental Properties is principally a developer and manager of three proprietary rental community brands – Springs Apartments, Authentix Apartments, and Avanterra, we occasionally acquire existing high-quality investment properties in select locations. Greenfield, WI has a strong history of growth, and Greenfield Highlands is a high-quality property ideally located to take advantage of Wisconsin's natural beauty while being conveniently located near excellent dining and entertainment options for our residents.

Greenfield Highlands is located in the heart of Greenfield, just 15 minutes from downtown Milwaukee. Situated on the second-highest elevation point in Milwaukee County, the property has no shortage of spectacular views of the Milwaukee landscape. This 180-unit community completed construction in 2018 and features six, three-story residential buildings with heated underground parking. Other amenities include a swimming pool, community clubhouse, and walking trails. Each home is complete with upgraded finishes, walk-in closets, fireplace, private balcony or patio, and more. And just like our Springs, Authentix, and Avanterra communities, the Greenfield Highlands team provides our residents with a 5-Star Standard luxury living experience.

We are excited to announce that a current Continental team member has taken on the role of Community Manager at Greenfield Highlands. Previously an Assistant Community Manager at our Springs at Hurstbourne community in Lexington, KY, Jen Zarate participated in our internal employee development program and accepted a promotion to become a Community Manager. Congratulations, Jen!
To learn more about our newest addition to the Continental family, please visit Greenfield Highlands' website.


About Continental Properties
Continental Properties is a national developer and operator of multifamily communities, retail, and hospitality properties. Since its inception in 1979, Continental Properties has developed over 100 apartment communities encompassing more than 26,000 apartment homes in 19 states.