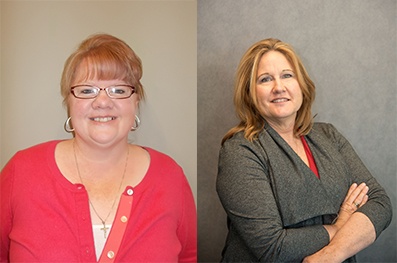 There is big news coming out of the Springs portfolio in Iowa!
First, we are happy to announce the promotion of Rhonda Calhoun to Property Manager at Springs at Bettendorf. Rhonda joined the team in Bettendorf, Iowa as Assistant Property Manager (APM) in June of 2014. Since then, she has been very successful in our APM Development Program, took second place in our 2015 Leasing Agent of the Year Contest with 174 new leases, helped put together the 2016 budget and competently managed the property on numerous occasions in Bridget Cundiff's absence.
Speaking of Bridget, the position in Bettendorf opened up for Rhonda when Bridget left that location to become the Property Manager at Springs at Waukee. Bridget started as APM with Springs at Bettendorf in June, 2012. She was promoted to Property Manager in December, 2013 when the property manager before her also left to fill a vacant position in the Des Moines area, at Springs at Jordan Creek. Bridget has been exemplary in living Continental's creed and in delivering outstanding customer service to our residents. In fact, under her leadership the property has attained a 94% Recommended Rating on apartmentratings.com.
This is a very exciting way to start 2016. Both Rhonda and Bridget have excelled at their work, availed themselves of every opportunity to learn and grow and been bold enough to leap at new opportunities.
Congratulations, Rhonda and Bridget! We look forward to your continued growth.