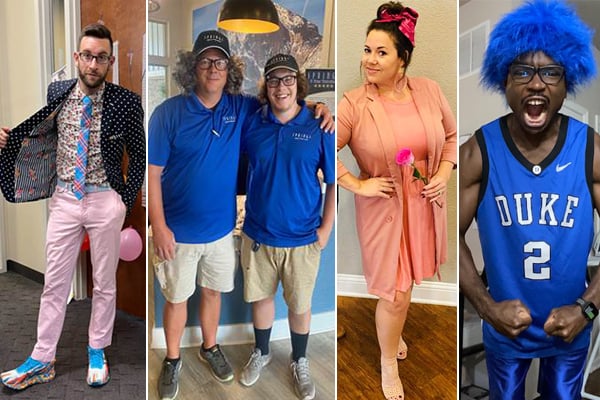 Last month marked Continental Properties' 42nd birthday. This past week, we celebrated as an organization with a Spirit Week. Our collective success and tremendous culture have been sustained by our most critical asset, our team, and Spirit Week is a way for our teams to celebrate those successes and have fun with themed days and fun bonding activities, including Mismatch Day, Twin Day, Monochromatic Day, as well as Virtual Trivia and Bingo.
Pictured above, our daily winners were (from left to right): Jake from the Home Office for Mismatch Day, Dan & Trevor from Springs at Eagle Bend for Twin Day, Bambi from Springs at Live Oak and Springs at Alamo Ranch for Monochromatic Day, and Stephon from the Home Office for Sports Day.
Events like this are what make Continental not only a Top Workplace, but a desired place to work. Celebrating as a team, whether it be for a birthday or internal accomplishments, is a core tradition that we feel strengthens the already great work that Continental has been producing for 42 years and counting.