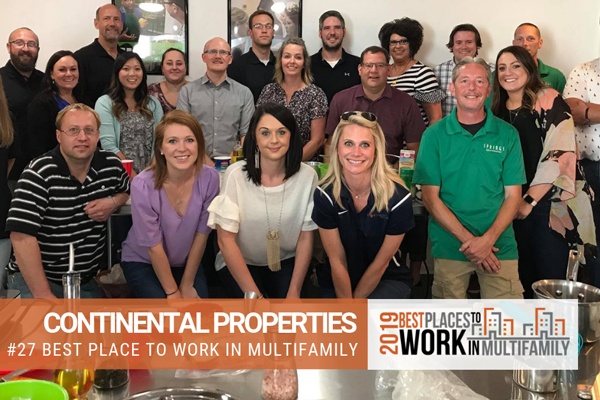 Continental Properties and Springs Apartments was recently named one of the Best Places to Work in Multifamily™. The annual list of "Best Places to Work" was published by Multifamily Leadership.
Continental was one of only six companies on the list to both develop and operate multifamily communities across the country. Our strong showing is a result of keeping our brand true, culture strong, and delivering superior customer service to our residents.
This is great accomplishment for Continental, our Springs Teams, and each of us. The procedure for evaluation of each company was an in-depth process. The committee evaluated each company's employee policies and procedures, as well as responses from our onsite Springs team members through a two-part survey completed earlier this year measuring the employee experience. The combined scores determined the top organizations and the final ranking. Today's multifamily organizations are not just competitive in product and technology provided, but also by quality of experience for our team members in the workplace. This area remains a top challenge for organizations. A forward-thinking leadership strategy is key for creating and sustaining a competitive advantage.
"I believe that the Continental Creed is not only a guideline, but provides the ideal environment to develop not only my career, but also my passion."
-Marketing Specialist, Continental Properties
We are proud of this accomplishment and will always provide a great place to work and continually build multifamily careers across the country.