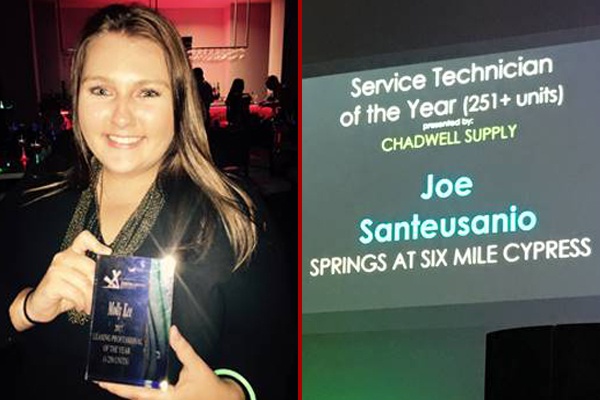 The teams we have in place for our Springs properties are definitely the Best and Brightest, so when we win two awards for property management we are overjoyed, but not surprised. On December 8th, 2017, the Southwest Florida Apartment Association (SWFAA) held their annual awards gala. Molly Kee and Joe Santeusanio both received awards and were recognized during the ceremony.
Molly Kee won Leasing Professional of the Year! She is the Leasing Associate at Springs at Gulf Coast in Estero, FL. Molly started with Springs in August of 2016. She was the Leasing Associate for Springs at Estero before she relocated to Springs at Gulf Coast.
Joe Santeusanio won Service Technician of the Year! He is the Maintenance Technician for Springs at Six Mile Cypress in Fort Myers, FL. Joe started with Springs in December of 2016.
Being the Best and Brightest also means having unmatched knowledge in the industry. At the awards ceremony Yasmin Khan, Property Manager at Springs at Six Mile Cypress, was named Southwest Florida Apartment Association's new President!
Congratulations to Molly, Joe, and Yasmin!