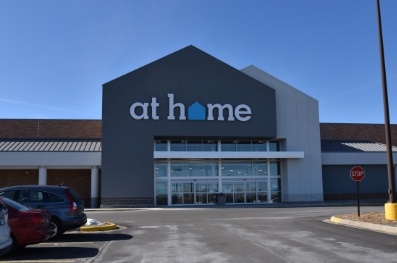 Creative thinking has been one of Continental Properties' hallmarks since the beginning. That aptitude has served us well in re-tenanting several Kmart stores over the past few years.
Continental was a major partner of Kmart in the 1990's, eventually developing 29 stores around the country. The relationships we developed were key in allowing us to find new tenants for vacant or poor performing stores while navigating a couple of unique challenges. First, we had to negotiate acceptable termination agreements with Kmart so we could control the real estate while we signed leases with new tenants, worked through entitlements and obtained construction bids. Second, Kmart traditionally has very deep stores, which can be difficult to re-purpose. We had to be very creative in how we used the space to benefit our new tenants.
Having overcome those challenges, in the last few months we re-tenanted three stores:
at home has recently opened in a former Kmart in Burnsville, Minnesota
Hobby Lobby and Dunham's opened in a former Kmart in Brookfield, Wisconsin
Fresh Thyme Farmer's Market, Dick's Sporting Goods and Mattress Firm are coming soon in a former Kmart in Waite Park, Minnesota
In addition to the re-tenanting of our own stores, we have also purchased closed or non-performing stores from other landlords and turned them into revenue-producing locations for new retailers. For example, in our home state of Wisconsin we purchased vacant Kmarts in Menomonee Falls and Sheboygan, razed them and built new Pick 'n Save stores.
Our success with Kmart is a good illustration of our record of turning open, vacant and underperforming real estate into assets that bring value to our clients and the communities in which we operate.