Every year property managers from around the country gather at the Aloft Chicago O'Hare with senior operations team members and other home office support teams. The 3-day event is an opportunity for our teams to share the values we all embrace as defined in our Continental Creed. It is also a time to enjoy spending time with peers, to celebrate successes, and to begin planning for the upcoming year.
We certainly are a diverse group of professionals! Managers come from all over the country, some with extensive experience in the industry outside of Continental, and some who have made their way up the ladder from within. We had presentations that ranged from 2018 budgets to finding and developing excellent talent to upcoming active shooter training.
This year there was a special guest, Toni Blake, who revved up the crowd with her unique combination of practical industry experience and relatable humor.
As usual, the event was highlighted by the awards. This year Michelle Kohn (Springs at Bee Ridge and Springs at Palma Sola) was named Property Manager of the Year, recognizing her abilities that include mentoring talent, managing for financial success and dedication to the core values that make Springs Apartments a great place to work. Springs at Bettendorf was named Property of the Year because of the consistenly outstanding performance of the entire team.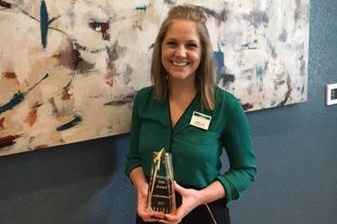 This year's Rising Star is Amelia Robinson (Springs at Essex Farms) who, after starting as a leasing associate, has taken every opportunity to learn and grow, while being quick to offer her assistance wherever needed.
Through plenty of healthy debate and abundant sharing of ideas, these few days were a manifestation of the group's unwavering dedication to teamwork.