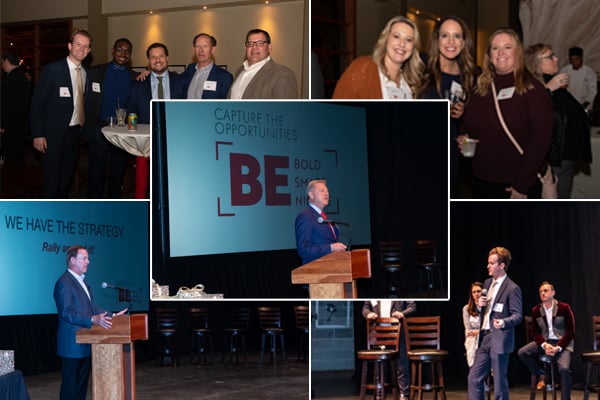 On Thursday, October 28th, Continental Properties held our 23rd annual State of the Company (SOC) event at the Sharon Lynne Wilson Center in Brookfield, Wisconsin. Jim Schloemer (CEO) and Dan Minahan (President) kicked off the day by reflecting on the state of the company - Continental's accomplishments over the past year and the outlook for the future ahead.
With 176 team members in attendance and approaching 300 team members joining the live stream, this year's SOC theme was "Capture the Opportunities: Be Bold, Be Smart, Be Nimble". The Company Officers shared Continental's new Five-Year Strategic Plan to grow the organization through 2026. The plan was highlighted by a strategy of building communities that enhance the lives of those within our communities, and will be driven by three pillars of focus: (1) Customer Centricity, (2) Culture, and (3) High Profitability.
Continental team members next heard a special update from our You Belong Here Committee. This committee is comprised of team members from across the company who are empowered to serve as change agents by creating and implementing actions that embody our culture of belongingness.
The audience was then provided an update on Continental's four initiatives underway to re-imagine the company: Data Driven, Customer Centric, Production Model, and Evolving the Culture. Each individual initiative was presented by team members that are playing a leadership or outsized role in the respective initiative.
The day finished with the presentation of our annual Rich Bell Award along with service awards, recognizing team members who have achieved two, five, ten, fifteen, and twenty-five years of working at Continental.
The event concluded with a reception, allowing our team members to celebrate our accomplishments and reflect on the exciting discussions from the day.