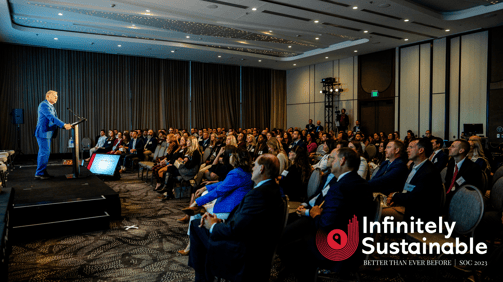 MILWAUKEE, Wis. — On Thursday, October 19, Continental Properties convened at the Renaissance Hotel in Wauwatosa, Wisconsin, for its 25th Annual State of the Company (SOC) event. This momentous occasion brought together Continental team members from across the nation, both in-person and via live stream, to commemorate the company's achievements over the past year, provide a transparent view of the company's current state, and set the course for an even more promising future. The event's theme, "Infinitely Sustainable - Better Than Ever Before," underscored how Continental is on an infinite and dynamic journey that collectively challenges norms and explores new horizons.
The event commenced with opening remarks from Continental's CEO, Jim Schloemer, and President, Dan Minahan, who presented a year in review. They reminded the audience that this SOC marked a remarkable milestone – the 25th State of the Company – and expounded on what this year's theme means to Continental.
Continental's senior leaders then took the stage to discuss current market and industry conditions, focusing on external challenges and their belief in Continental's Infinitely Sustainable approach. They emphasized the importance of Continental's Three Pillars of being Infinitely Sustainable: employee experience, customer experience, and financial performance.
Leaders also emphasized the significance of Continental's commitment to being a data-driven organization, highlighting the need to uphold this mindset in a rapidly evolving business landscape. Additionally, an engaging Q&A session with Continental's officers provided team members with the opportunity to ask questions related to the state of the company, fostering an open and transparent dialogue.
"Throughout the SOC event, it was clear that Continental wasn't just celebrating a milestone but embracing a future of innovation, sustainability, and continuous growth," said Paul Seifert, EVP of Operations and Chief Legal Officer. "The theme, Infinitely Sustainable - Better Than Ever Before, captures the essence of Continental's commitment to progress, reminding us that as a company, we're on a journey of infinite possibilities."
The event transitioned to its Service Awards, which celebrated team members who achieved two, five, ten, fifteen, and thirty-five years of service at Continental. A highly anticipated moment of the event was the presentation of the Rich Bell Award, honoring the team member who best embodies the leadership and teamwork characteristics of Rich Bell, one of the three founders of Continental Properties. This year's deserving winner was Heather Riggs, Vice President of Multifamily Operations.
In a heartfelt moment, Continental also celebrated the retirement of Gerry Severson, Vice Chairman. Team members heard remarks from senior leaders, along with a touching documentary-style video that showcased Gerry's extraordinary 33-year journey with Continental Properties and the incredible impact he's had on the company's success. This was an emotional and highly charged tribute to a beloved member of Continental's team.
Following the formal proceedings, Continental hosted a social event in the Botanic & Belvedere Rooms on the hotel's top floor, providing an opportunity for team members to relax, unwind, and network.
Post-SOC is followed by another annual tradition – a personal visit from Jim and Dan to each of Continental's multifamily communities. These visits serve as a two-way conversation where they discuss the State of the Company message in person and gain valuable insights into the experiences, challenges, and successes of on-site teams.