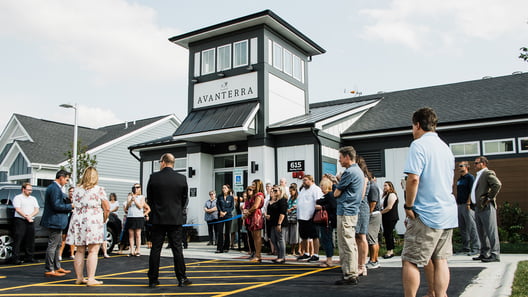 OSWEGO, Ill. - On July 26, 2023, Continental Properties held the successful ribbon-cutting ceremony for its first single-family rental community, Avanterra Wolf's Crossing, in the Village of Oswego. The event attracted an array of esteemed guests, including Village President Ryan Kauffman, Illinois State Senator Linda Holmes, and representatives from the Oswego Area Chamber of Commerce.
During opening remarks, Continental Properties' Vice President of Acquisitions, Erik Hahn, expressed his thoughts on the four-year-long journey to reach the grand opening. "After carefully evaluating various competing options across the country, Continental Properties made a strategic decision to choose the Village of Oswego as the ideal location for developing Avanterra Wolf's Crossing. This choice was driven by the village's outstanding community qualities, position for growth, rich amenities, and robust neighborhood fabric. Additionally, the positive experience we had previously established as a corporate citizen in the village, with our successful Springs at Oswego community completed three years ago, further reinforced our commitment to this partnership."
The event served as a testament to Continental's dedication to fostering strong connections with the Oswego community and showcasing the positive impact Avanterra Wolf's Crossing will have on the area. "Avanterra stands not just as a collection of houses but as a symbol of unity, progress, and growth," said Village President Ryan Kauffman. "This neighborhood is more than just a place to live. It's a place where memories will be made, friendships will flourish, and dreams will come to life. Continental continuously demonstrates that they are good corporate citizens and community partners. We look forward to continuing our synergetic relationship with them."
"I enjoyed touring the new Avanterra Wolf's Crossing community and I'm pleased to see a new housing option in Oswego," Illinois State Senator Linda Holmes said. "Today, more people are looking for single-family homes to rent with low or no maintenance. It's in a good school district, which is always important for families. This development responds to Oswego's growth and the need for a variety of living options for residents."
The ribbon cutting solidified the village's strong support for Avanterra Homes and Continental's continued commitment to creating enduring partnerships with local businesses. During the event, guests had the opportunity to network, explore the community, and indulge in delicious fare from local eateries, including Primos Tacos and My Sister's Lil Doughnut Shop.
For more information about Avanterra Wolf's Crossing or to set up a tour, visit our website.