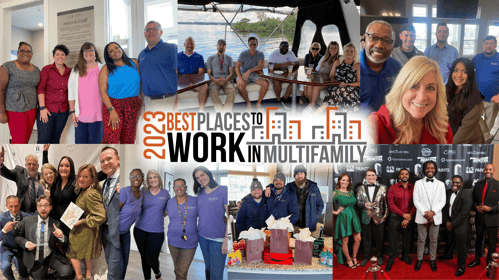 Continental Properties is excited to announce it has been named in Multifamily Leadership's annual list of Best Places to Work Multifamily® for the sixth consecutive year. This year, Continental was ranked 7th nationally out of 37 Multifamily Management/Owner finalists with 5,000 - 19,999 homes.
The rankings were announced on December 7 at the Multifamily Awards show, where employees of the finalists watched and celebrated together. Continental Properties' Vice President of Operations, Heather Riggs, and Executive Vice President of Operations & Chief Legal Officer, Paul Seifert, attended the event.
"We are honored to be ranked in the Best Places to Work Multifamily® program," said Paul Seifert. "At Continental, one of our three strategic pillars is our Focus on Culture and creating a great Employee Experience. We value the lives of our team members and strive to offer careers where employees feel respected, empowered, and recognized for their impact on the lives of others and Continental. Ranking in this program is a true testament to our efforts in this area and the people who drive our culture daily – our team members."
The Best Places to Work Multifamily® program recognizes companies that have established and consistently fostered outstanding workplace environments, often acknowledging that employees are a company's strongest and most valuable asset. The award affirms an employee's sense of belonging within the organization, therefore increasing employee engagement and retention.
The rigorous assessment process evaluated the company's employee policies and procedures as well as input collected via survey responses from randomly selected employees. The program is part of a long-term initiative to encourage growth and excellence throughout the multifamily apartment industry and attract new leaders.
If you want to learn about a rewarding career in multifamily at Continental Properties, please visit our Careers Guide.