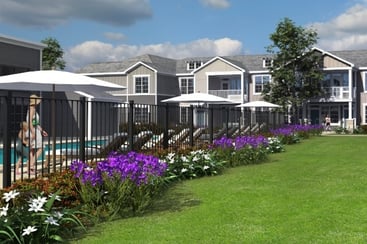 On Monday, August 15 Continental closed on the acquisition of a 22-acre site in Austin, TX for our newest apartment community, Springs at Lakeline. The site is located just west of Parmer Lane in Northwest Austin.
This area is an employment hub in Austin, and home to Apple's new 1.0 million square foot "Americans Operations Center" with over 6,000 employees! Upon completion, Springs at Lakeline will consist of 15 apartment buildings totaling 328 homes.
The Team is very excited to add this community to the Continental portfolio. The project kicked off in May, 2015 at a restaurant called Little Woodrow's. Sara Johnson and Gwyn Wheeler showed why they are invaluable members of our development team, and we are proud to call them among the "best and brightest" at Continental.
After how well the entire organization performed to get this community in the ground, we look forward to a very bright future for Springs Apartments in the Austin, Texas area. This is the second new community for Continental in the Austin area this year. We began construction on Springs at Round Rock in May.