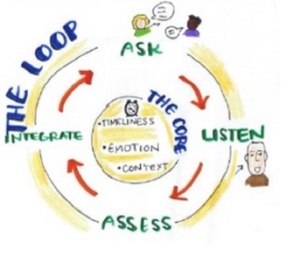 As Continental grows, both numerically and geographically, it is becoming increasingly important for our company's leadership to receive real-time feedback from employees throughout the entire organization. To achieve this we are implementing an innovative employee feedback tool – Loop. Powered by Workplace Dynamics, LLC, Loop is a system developed to facilitate and open the lines of communication between employees and the organization's leadership – getting the right feedback to the right people at the right time.
Loop will enable Continental's leadership team to very quickly and efficiently reach out to employees on a wide variety of topics. By touching base with employees frequently, Loop helps managers, leaders, and Human Resources capture feedback and obtain valuable insights from people throughout the company. Additionally, Loop allows managers to respond to this feedback in real-time, obtain additional clarification, and make better informed organizational decisions.
Continental has been named one of Milwaukee's "Top Workplaces" for three years running. Achieving this designation in subsequent years is a focus of our leadership team and Loop is one tool Continental will employ to ensure we accomplish this goal.
Continental's Human Resources team is current working closely with Loop and Workplace Dynamics to launch this service early to mid Q1 2016.