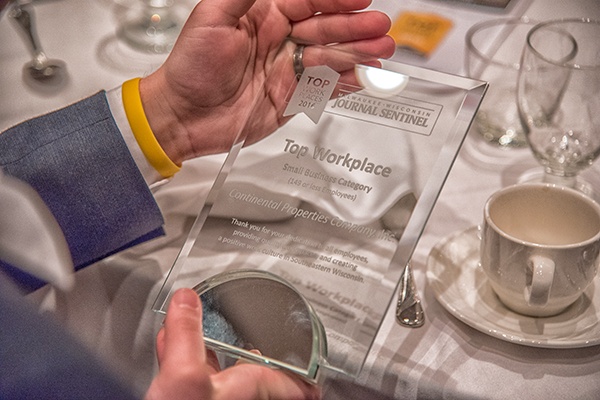 It is an honor to be recognized as a Top Workplace by the Milwaukee Journal Sentinel for the fourth year in a row. To us, being named a top workplace is more about people than place - the talented professionals working at Continental make this a great workplace. The traits we have in common directly impact our success. We work as One Team – building communities, while building our careers.
Our dedication to teamwork, superior thinking and eagerness to embrace change are the cultural differentiators that bring about this public approbation. Our culture is sustained by the people who, with so much dedication, apply their talents to our collective success. We are a Top Workplace because of every team member's commitment to our shared goals, and to our Continental Creed.
The Workplace Dynamics employee survey was sent to Continental employees in November of 2015. The results of this anonymous survey are compared with those of other businesses in the Milwaukee area and our selection as a Top Workplace is based on the responses from our employees. We are proud to share the company of some other very fine businesses in Southeastern Wisconsin.
We accomplished so many goals together in 2015, performing our work "better than we have ever done it before". Our theme for 2016, One Team, is a helpful reminder that as one team we won this acclaim, and as one team we look forward to the many opportunities ahead!