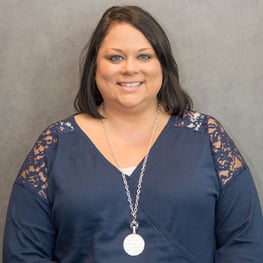 Congratulation to Jessica Armstrong on being recognized as the 2015 Rich Bell Award winner! The award is given every year to the individual who best embodies the Continental Creed.
Jessica is currently the Property Manager at Springs at Winchester Road in Lexington, Kentucky. Her journey with Continental began as a Assistant Property Manager at Springs Live Oak in 2011. In January, 2012 an opportunity opened to head Springs at Jordan Creek, our property in Des Moines, Iowa, and she eagerly embraced the challenge. Next up, in January, 2014, was a lease-up in Lexington, Kentucky, where she endured seven months of leasing trailer life and one of the worst winters in years in Lexington. Her hard work and ability to bring together a great team was instrumental in the successful lease-up.
In the last few months, she has been a major contributor in other Springs lease-ups, having set up the clubhouse and turning over the first building at Springs at May Lakes and filling in for a couple of weeks at Springs at Fremaux Town Center. During this five week period, she also brought Springs at Winchester Road to stabilization. "She didn't hesitate when we asked for help and was instrumental in setting up these project for success," says Sherry Cameron, Director of Property Management.
She now looks forward to another move, having accepted a new lease-up challenge at Continental's first Springs project in Ohio, Springs at Liberty Township in Cincinnati.
Jessica has three children, ages 18, 16 and 11 who have enjoyed exploring all of the new cities she has ventured to, as has her mother, who has played a major supporting role while Jessica travels and grows her career with the company.
After receiving the award, Jessica had this to say: "I am so humbled and honored to represent all Springs team members as the first of our group to win the Rich Bell Award."
Hearty congratulations to Jessica, a wonderful team member and a great example for the entire company!