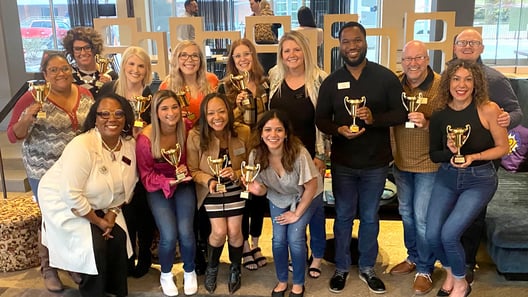 Last week, Continental Properties held its annual Manager's Meeting at the Aloft Chicago O'Hare in Rosemont, Illinois. This year's theme was "Mindset Shift: Powered by Culture with a Bias to Action" and the event aimed to bring team members together to reflect on the past year, discuss goals, and celebrate achievements.
The meeting started with a keynote discussing Continental's Three Pillars, emphasizing the importance of taking great care of our customers and team members while maintaining financial success. In addition, workshops were held that discussed embracing difficult conversations, de-escalation strategies, and the mindset shifts needed to adapt to the changing real estate environment.
The event concluded with an awards ceremony celebrating 2022's outstanding achievements. Meet our honorees below!
Community of the Year:
Springs at Round Rock upholds our 5-star standard by delivering exceptional customer service. Despite navigating staffing challenges within the maintenance department in 2022, the team went above and beyond to give our residents a top-notch experience. In addition, achieving their metrics has always been a great focus for this team. They did not let outside influences change their overall goals. Instead, they changed their strategy to reach their goals.   
Springs at Round Rock also shined on their social media outlets with resident engagement, consistent events, and lifestyle posts. Residents of this community love where they live, and it's proven through their Net Promoter Score well above the company average.  Congratulations Springs at Round Rock!
Steve Heldenbrand Award:
Steve Hildebrand was a Maintenance Supervisor with Continental for several years, always going above and beyond for the community and its residents. While Steve is no longer with us, he left a mark on Continental that lives on every single day, and we continue to honor the impact he made on countless team members and residents through this award.
Victor Corcino
Victor personifies Steve Hildenbrand's characteristics through his kind, empathetic, and engaged nature. Victor is passionate about helping others, whether sharing tutorials and knowledge on monthly maintenance calls, cooking soup for sick colleagues, or changing tires when residents have car troubles. Because of his leadership, he helped earn 60 5-star reviews in 2022 for Springs at Flagler Center, which often praised his attitude, care, enthusiasm, and excellent customer service. Victor embodies our Infinitely Sustainable mindset and continuously looks to the needs of the future.
Rising Star Award:
Continental provides many opportunities for growth for our team members. This year, we recognize three team members who have demonstrated empowerment in their roles and taken the initiative to take on new opportunities to develop themselves further.
Nicole Hammond
Nicole has been with Continental for almost three years. Despite coming to Continental without any industry experience, she has been a fantastic mentor to many in our market, including Springs at Castle Rock's new Leasing Associate, Max Brown. With Nicole's guidance, he received an almost perfect secret shop score in his first 30 days without prior experience. In her time at Continental, Nicole also earned Leasing Agent of the Year. We are thrilled to see her continue to grow and are thankful for all she does for her residents and team.
Taylor Pyles
Taylor started at Continental with no industry experience but showed enthusiasm and purpose, and quickly became a mentor to many. She has contributed to the implementation of new technology, has onboarded new employees, and has grown in her career through the completion of Continental's Leasing Agent Development Program and the Assistant Community Manager Development Program. She is ever-present for her employees, community, and sister communities. From moving sofas to helping facilitate 20 move-ins in one day after hours without hesitation, Taylor always goes above and beyond for our residents.
Ed Tobian
Ed has a passion for customer service and a thirst for learning. He participated in the Maintenance Technician Development Program and has stepped up as a leader for his team in the face of numerous operational challenges. When fire panels were struck by lightning at one of our communities, Ted graciously agreed to alter his schedule and cover the 24-hour shift. Next, Hurricane Ian severely impacted the community, leaving residents without power and water for several days. He rallied his team to assist with clean up and supply delivery, even leaving his home that was also damaged. We are lucky to have such a devoted, selfless leader!
Community Manager of the Year:
The role of Community Manager is one of the most critical positions within our organization. They are responsible for successfully managing people, impacting our customer experience, and ensuring that our communities are well-maintained and financially solvent.
Devin O'Barr
Devin encourages his team to be agile, outperform goals, and have the courage to share thoughts and ideas. Engagement from his teammates can be felt during onsite visits, seen in online reviews calling out the team by name, and through the development programs employees participate in.
One of his most admirable traits of Devin is his ambition. He is driven and motivated by achieving goals, gaining education, capturing opportunities, learning from mistakes, talking through challenges, and striving to do it better than ever before. At the end of 2022, an internal, territory-specific awards ceremony was hosted to recognize wins in 2022. Within the Chicagoland portfolio, Devin took home the awards for Strongest EGI, Highest CCX NPS, Best Shop Scores, and Highest Revenue in Sales. He also entered the million-dollar club quickly after the new year began. Thank you, Devin! Springs at South Elgin is lucky to have you.
Jamie Davis
As we think about being an infinitely sustainable company, we know it takes team members willing to embrace new ideas and ways of doing things. Jamie embodies this by being flexible, open to change, and eager to learn new things. Her dedication to customer service ensures that our residents have the best possible experience living in their community. Through her leadership, the lease-up at Authentix Cartersville has been strong, beating the lease-up pace by three leases a month.
Jamie has also proven to be agile as she has worked to advance Continental and her career, having worked in eight different Continental communities. She has been adaptable, embraced new opportunities and challenges, and has worked to drive success in each community while fully adopting Continental's mindset. Thank you, Jamie!
Thank you to Our 2023 Sponsors!
Diamond Sponsor
Gold Sponsor
Partner Sponsors