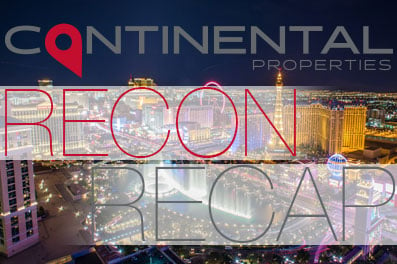 ICSC RECon is the largest annual trade show for retailers. It takes place every May in Las Vegas, and once again, Continental Properties was in attendance. Our team returned, as we always do, exhilarated by new opportunities and better informed about the state of retail development. The challenges for brick and mortar stores are not new. Many retailers are still struggling with how to drive traffic to their stores from e-commerce sites. Many big boxes sit empty. Very few regional malls are being planned. All of these factors, and others, contribute to downward pressure on rents. In addition, construction costs continue to rise.
Those challenges do not deter our team. In fact, in a way they are energizing because of the position Continental holds due to our years of experience, penchant for solving difficult development puzzles and long-standing relationships. Our expertise at back-filling vacant boxes is a tremendous advantage, as is our finely-tuned market research strategy that allows us to find great sites and match them with the right retail partner. Growth opportunities abound. Mixed use is the fastest growing sector. Discount chains continue to add stores, and fast casual restaurant concepts are in growth modes.
The future holds challenges, but Continental is well situated to tackle them with great success.