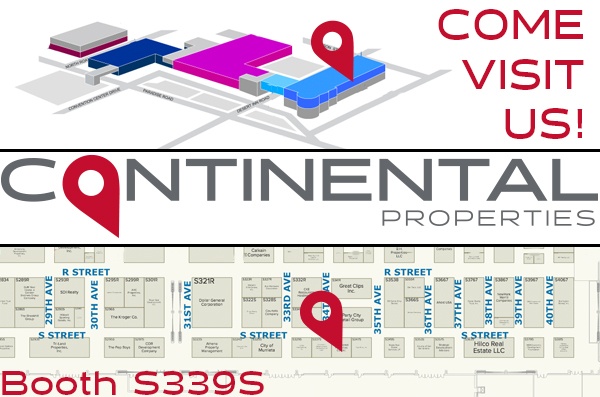 Continental Properties is looking forward to another year of RECon, when Las Vegas, Nevada becomes the retail capital of the world during the annual ICSC (International Council of Shopping Centers) global convention.
This is the tenth year that Continental has taken a booth at the show, and the 26th year that representatives from Continental have attended. Gerry Severson, Vice Chairman and President of the Retail Group, explains why he continues to attend the event. "I have been coming for 35 years. I enjoy putting names to faces, renewing old friendships and networking. This convention has been key in making countless deals happen for Continental."
Just in the past few years, meetings that our various team members have had at RECon have helped us move along or secure deals for several projects. Two years ago we were able to finish leasing a project in Germantown, Wisconsin. Last year we made contacts that led to releasing old Kmart stores, one in Burnsville, Minnesota and another in Brookfield, Wisconsin. We look forward to showing prospective partners our existing inventory, or using our expertise to open doors to new development.
Please stop by to visit us at Booth S339S in the South Exhibit Hall. RECon takes place from May 22-25 at the Las Vegas Convention Center.