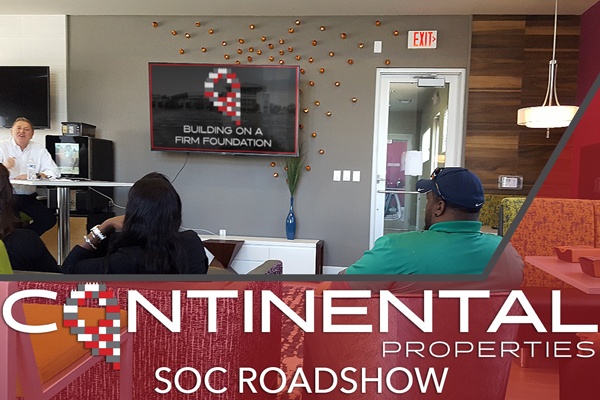 Much like the song Rock 'n Me by the Steve Miller Band, Jim Schloemer (CEO) and Dan Minahan (COO) traveled the country presenting the annual State of the Company to our onsite teams. However, instead of traveling to "Phoenix, Arizona all the way to Tacoma" as the song says, they visited 18 of our locations, with all 33 of our communities traveling to be in attendance.
The SOC Roadshow presentations are a great way for the onsite team members to get one-on-one time with Jim and Dan as they present Continental's year end wrap-up and strategies going forward. After the presentation, Jim and Dan leave a few hours of open discussion where team members can ask questions or comment on their work at Continental. Unlike most development companies, when we develop a Springs, we continue to own and operate the community. This makes our team grow larger each year, and the Roadshow is a great way to keep our growing team feel like a tight-knit family.
On November 8th, the SOC Roadshow presentation commenced. The ten-state journey ended December 13th where we announced the winner of our annual raffle. This raffle usually consists of the winner (and their guest) taking a two day, all expenses paid, trip to a destination in the USA. This year, the winner picked a destination from a choice of six different states where we have a Springs community.