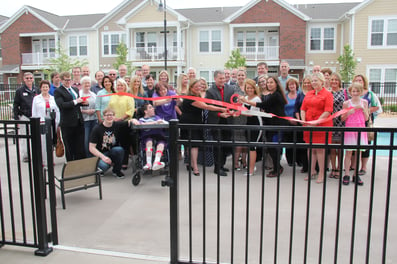 Springs at Apple Valley was officially welcomed into the city with a Ribbon Cutting Ceremony on Thursday, June 23rd.
The event showed that there is an air of positivity and excitement about the newest apartments in Apple Valley. Ed Kearney, President of the Apple Valley Chamber of Commerce stated, "ribbons are always being used to symbolize achievements and it is what ties the community together." As one of the only gated communities in the Twin Cities and the newest townhome-style apartments in the south metro area, bringing in 280 new homes, we are thrilled with the warm welcome!
In such a prime location, near shopping, restaurants, grocery stores, and easy access to main roadways, this event showed how the community is excitedly embracing the newest residents of our city. We are so thankful to be a part of Apple Valley, which was named the 17th best city to live in America by Money Magazine! View more pictures of the event here.