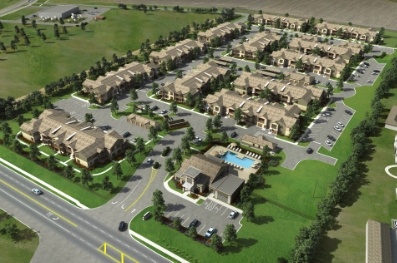 On Tuesday, February 23, 2016, Continental Properties closed on the acquisition of 18 acres for a new Springs community in Waco, Texas. The property is well located just east of I-35 along Bagby Avenue. Nearby demand drivers include a new hospital, retail center and numerous employers. Upon completion, Springs at Cottonwood Creek will consist twelve buildings containing 260 units. Ground breaking occurred yesterday and the first building is scheduled to be delivered in January 2017.
As usual, many hands made this deal happen. Special thanks to Gwyn Wheeler who ran the entitlement process. Gwyn did an excellent job working with the City to negotiate the off sites and was very effective working with the utility provider on easement issues. Larissa Addison managed a very efficient closing and worked well with the Seller's counsel. Luke Porath successfully navigated the financing process. The construction team, including Ron Issleb, Ashley Frank, Konrad Roznik and Andrea Hatton did a fantastic job working with the civil and general contractor. Ron reports that installation of the silt fencing started yesterday! Eric Gumm prepared multiple iterations of the site plan and assisted with early recon. Melissa Wilichowski and Tessa Schloemer Meier prepared the Investment Committee materials, and Kelly Koenig monitored the comp set. Finally, thanks to Amy Arpke for her strong pipeline research and mapping that allowed us to find great site.
Continental is delighted to expand our presence in Texas to Waco.