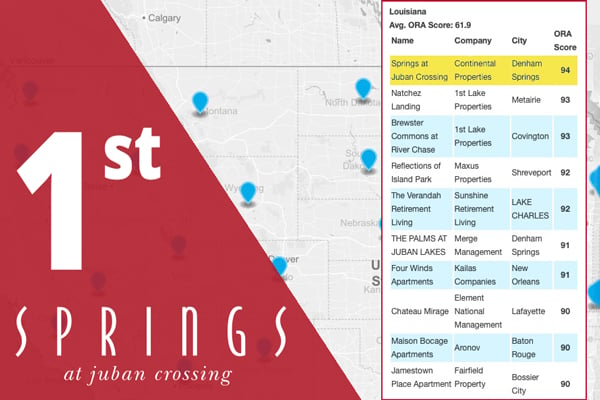 According to J Turner Research, 75% of surveyed residents utilize online ratings and reviews multiple times during their apartment search. Online reputation management has become a major focus for most businesses over the past few years and Springs Apartments is no different. We approach our online reputation the same way we approach our company culture - by treating our residents the way they want and expect to be treated. In doing so, positive feedback comes naturally.
J Turner and Multifamily Executive recently published their updated list of Top 10 Properties by Online Reputation in the 50 States and Washington, DC. We are very pleased to report that not only did Springs at Juban Crossing make the list, they are ranked first in all of Louisiana.
This achievement is a testament to the commitment that the team at Springs at Juban Crossing has to the tenets of our Continental Creed, especially that "we are committed to providing unparalleled value to our customers by performing our work better than it is performed anywhere else and better than we have ever done it before".
Congratulations to Springs at Juban Crossing and all the team members involved in this great accomplishment!