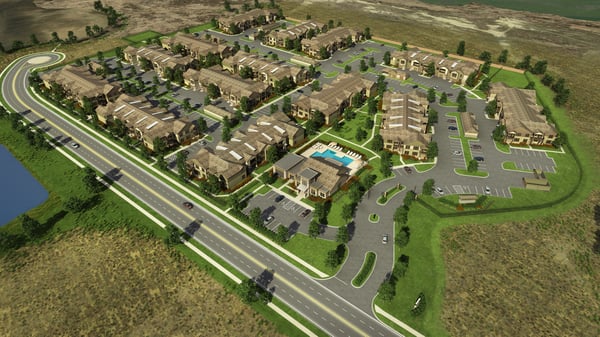 Continental Properties, a Wisconsin-based national commercial real estate development company, recently announced the acquisition of land for a new residential apartment community in Kenosha, Wis., 30 miles from the metro Milwaukee area. The townhouse-style apartment homes will begin accepting applications in fall of 2016, with the opening set for early 2017. This new apartment community, named Springs at Kenosha Apartments, is the first Wisconsin location for Springs Apartments, Continental's national apartment brand. This is one of 16 Springs apartment home communities undergoing site preparation or active construction around the country as of February 2016.
Springs at Kenosha Apartments is a pet-friendly, gated and fenced residential community that features a number of amenities and services that set it apart from other apartment communities, such as private ground floor access into each home, attached and detached garages, a clubhouse and 24-hour fitness facility, and a resort-style pool with an outdoor grill area. Other amenities include two pet playgrounds, pet spa area, and a car-care center.
Kimberly Grimm, Continental's vice president of development, said the site for Springs at Kenosha Apartments was purchased from North Shore Bank and chosen for its proximity to employers and services. "This new community is close to both Milwaukee and to the northern Chicago suburbs, and is a short distance from I-94, making it ideal for people who work in either location; it is also close to major employers like Amazon and Uline. This is a great location in terms of lifestyle and convenience because it has everything a resident could want nearby – retail stores, grocery stores, restaurants, entertainment venues and more."
Paul Seifert, Continental's vice president of multifamily and commercial operations, added that a distinguishing feature of all Springs apartment communities is the service provided to residents. "Our organization is known for the very high level of care and service we deliver. Our goal is to ensure residents have a consistently positive experience living in communities that are attractive, well-maintained and offer a superior level of comfort and convenience."
Kenosha Common Council member Robert Johnson says the new apartment community will enhance the appeal of the city to both those considering a move to the area, and to people already living in the community. "Growth is an important ingredient to any great community. High-quality developments like Springs at Kenosha Apartments are seen as symbols of our success and vitality. As we work to attract and retain talent, making sure we have great living options like this is a top priority."
About Continental Properties
Founded in 1979, Continental Properties develops, own and operates high-quality apartment, retail and hospitality real estate across the United States. To date the company has developed 49 residential apartment communities and is active in 24 states, and 14 million square feet of retail and office gross leasable area (GLA). The company has been recognized every year since 2013 as one of "Wisconsin's Top Workplaces" by the Milwaukee Journal Sentinel.
This release was originally published on PRWeb.