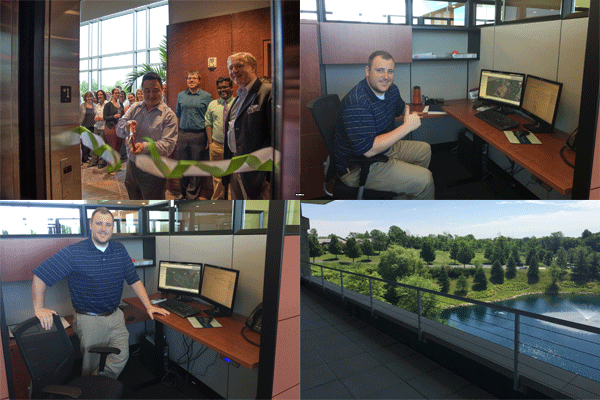 One of the biggest topics discussed during Continental's first Challenge Meetings in 2015 was what to do with all of the new people we would need to support our growth. Space in our home office was getting very tight, with not much room for new team members. After deliberating on many options, we decided to turn our third-floor storage area into new office space.
The design planning process was driven initially by emergency egress considerations. We looked at one untenable option that would have required removing a small conference room. Another added a steel fire escape staircase on the exterior of the building. Once that puzzle was solved, we drew up a plan that created 16 cube workstations, which soon evolved into a design that included four offices and 10 cubes. We received our building permit in February. During construction we did our best to control noise and minimize disruption, often getting here early in the morning for activities that required water shut-downs or significant noise.
During the week of our Second Annual Challenge Meetings, after less than three months of construction work, we cut the ribbon our our new space. Two days later team members started moving in. What once was a storage area is now home to 14 work spaces with standing desks, a fantastic balcony overlooking our pond, tremendous natural light from the huge windows and, most importantly, room for Continental to keep growing.