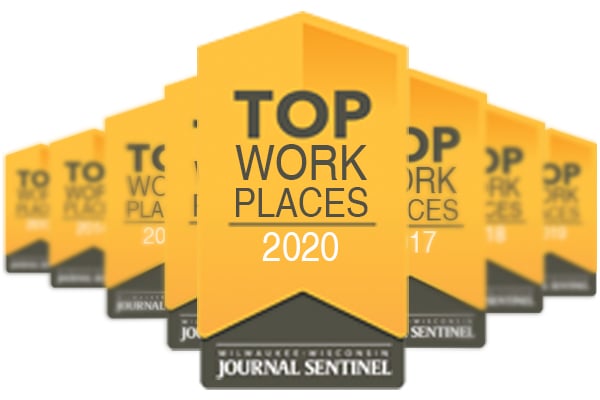 For the eighth consecutive year, Continental Properties Company Inc. was named a Top Workplace by the Milwaukee Journal Sentinel. Continental was one of 150 Wisconsin based companies to receive this prestigious award. Selection for this honor was determined through the results of a survey administered by a neutral 3rd-party company to our entire Continental Team.
Our dedication to teamwork, superior thinking and eagerness to embrace change are the cultural differentiators that bring about this public approbation. Our culture is sustained by the people who, with so much dedication, apply their talents to our collective success. We are a Top Workplace because of every team member's commitment to our shared goals, and to our Continental Creed.
As a result, we make a difference in people's lives; not only in the lives of our co-workers and families, but in the lives of our residents and the customers at our retail and hotel properties. Congratulations to every member of the Continental Team for this recognition of what each of us has done to create a company where the best and the brightest love to work.
The following verbatims from our team's response to the survey were also released by the Journal Sentinel, speaking to the culture that we have collectively developed at Continental:
"Continental is a great place to work because of its values. It is really family oriented and they really care about their employees."
"Continental Properties is an innovator within the industry that provides each team member with an environment that fosters dynamic growth."
"The culture of the company truly stands out above the rest."
"With Continental I feel empowered, recognized, and challenged. Our company leads with transparency and integrity that proves to be a winning formula for success."
"Continental consistently goes above and beyond to honor, train, and empower every employee."
"I love Continental because they give me opportunities to grow my career, allow me to have a flexible schedule, and I feel they truly care about their employees."
"I really love working with Continental because we have an amazing team spirit and we always have each other's backs."
"I love the people and the friendships that I have made working here!"