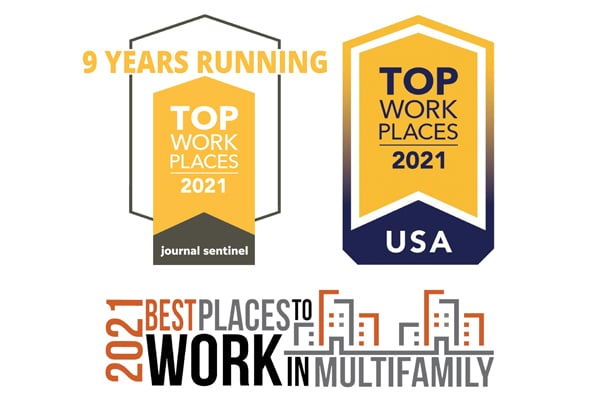 We are excited to announce that for the ninth consecutive year, Continental Properties Company Inc. was named a 2021 Top Workplace by the Milwaukee Journal Sentinel. This comes on the heels of our recent announcements on receiving the 2021 Top Workplaces USA and 2021 Best Places to Work in Multifamily awards. Continental was one of 150 Wisconsin based companies to receive this prestigious Top Workplaces award. Selection for this award was determined through the results of a survey sent to our entire Continental Team and administered by a neutral 3rd party.
"Among all of the successes that Continental has had over the years, and the recognition we have had, nothing is more important than our drive for continuous improvement, personal and organizational development, and for the fact that we have created a culture and communities that are driven by inclusion." Said Jim Schloemer, Continental's Founder & CEO.
Continental's drive for results and continuous improvement enable us to continue to make a difference in the lives of our residents, customers, team members and their families. By creating a culture driven by inclusion, our mindset is always to build communities that enhance people's lives. With the challenges that arose in 2020, we were committed, more than ever, to work together to achieve this purpose. Our dedication to teamwork, superior thinking, and eagerness to embrace change are the cultural differentiators that bring about this public approbation.
"There is no doubt that we can take great pride in this accomplishment. It's an achievement that is an honor for us that our success at creating a Top Workplace is one where we can individually and collectively do our best work." Said Dan Minahan, President & COO.
Thank you Continental Team for your commitment to each other, our company, and our customers - congratulations for being named a Top Workplace!