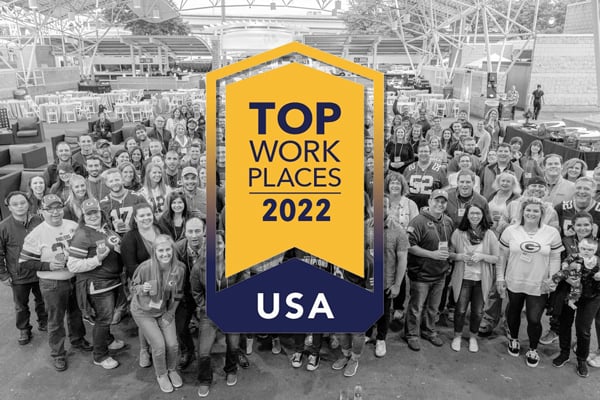 We are thrilled to announce that Continental Properties has been named a 2022 Top Workplace USA for the second year in a row! Top Workplaces USA is known as the nation's most credible employee recognition program and "celebrates nationally recognized companies that make the world a better place to work together by prioritizing a people-centered culture and giving employees a voice." The Top Workplaces USA award is based entirely on feedback from an employee engagement survey, which means we would like to thank, as always, our tremendous Continental Team Members for earning this award for the company.
At Continental, we create communities that enhance people's lives, which means we are focused on the lives of our team members and their families as well as the lives of our residents, customers, and partners that live and work in and around the communities we build around the country," said Ashley Napoli, Vice President of Human Resources. "We know the engine to our success is our people. Each team member sees themselves as the CEO of their area of responsibility, and embraces each day with an enthusiasm for growth and success through continuous improvement. We are proud to again be recognized as a Top Workplace USA as it is another indicator of how our team members are aligned with the Company's vision and values, and feel their voices are heard."
The Top Workplaces USA award was open to all organizations with 150 or more employees in the United States that do business nationwide. Over 22 million surveys and the participation of over 66,000 organizations led to the selection of the final Top Workplaces USA winners.
About Continental Properties
Continental Properties is a national developer and operator of multifamily communities, retail, and hospitality properties. Since its inception in 1979, Continental Properties has developed over 100 apartment communities encompassing more than 29,000 apartment homes in 19 states.