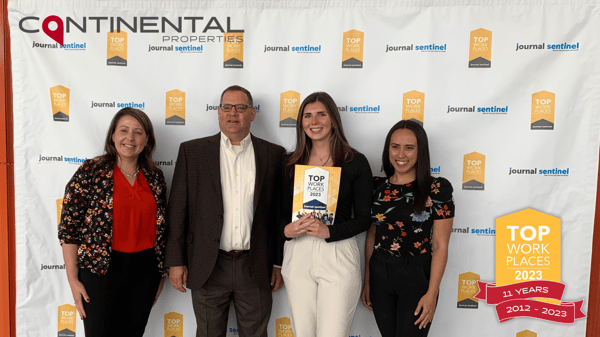 MILWAUKEE — Continental Properties is thrilled to announce its recognition on the Journal Sentinel's list of 2023 Top Workplaces in Southeastern Wisconsin for the 11th consecutive year. This year, Continental ranked 14th of 64 companies in the mid-size category. In addition to this achievement, Continental has also been honored with several Culture Excellence awards, including Leadership, Purpose & Values, Compensation & Benefits, and Innovation.
The Journal Sentinel's Top Workplaces program annually identifies and celebrates stand-out employers based on employee feedback results captured by the Energage Workplace Survey. The research-backed engagement survey is driven by the industry's most robust benchmarks built on data captured from over 27 million employees at more than 70,000 organizations across the past 16 years. Continuously earning a place on this esteemed list for over a decade is a testament to Continental Properties' unwavering commitment to fostering a collaborative and inclusive work environment.
"At Continental, we believe our diverse perspectives and shared experiences strengthen our team," said Paul Seifert, Vice President of Operations & Chief Legal Officer. "This recognition reflects our dedicated and talented team members who embody the Continental Creed and the core values that drive our success. As a company, we strive for excellence and deliver results that positively impact our communities, enhance our residents' lives, and make Continental Properties a great workplace."
Continental Properties' recognition in multiple Culture Excellence categories further highlights the company's dedication to cultivating a thriving work environment. The Leadership Award celebrates organizational leaders who inspire confidence in employees and the company's direction. The Purpose & Values Award recognizes organizations that have successfully communicated the company mission and integrated those aspirations into the culture. The Compensation & Benefits Award acknowledges Continental Properties' efforts to provide a fair and competitive compensation package compared to others in the industry. Finally, the Innovation Award highlights the company's focus on embracing new ideas and creativity in order to drive continuous improvement and success.
"Our people are our greatest asset, and these Culture Excellence awards affirm our ongoing commitment to their growth, well-being, and job satisfaction," added Beth Fredrick, Director of Talent Development. "We will continue to invest in our employees, nurture their talents, and provide opportunities for professional development so that each team member has an opportunity to reach their full potential."
About Continental Properties
Continental Properties is a national developer and operator of multifamily communities, retail, and hospitality properties. Since its inception in 1979, Continental Properties has developed over 125 apartment communities encompassing more than 33,000 apartment homes in 19 states.