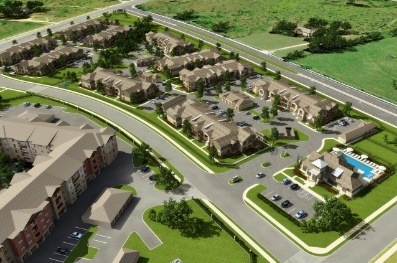 Yesterday we closed on the acquisition of 12.7 acres in Bryan, TX. The property is located just east of Texas A&M University at the corner of University Drive and Texas Highway 158. This is a highly desirable area in the Bryan / College Station market with numerous resident amenities and employment demand drivers. Springs at University Drive will consist of 216 apartment homes, of which twenty will have upgraded amenities.
The team executed well on this project, and several people need special recognition. Larissa Addison took good notes during our recent negotiation training and utilized a combination of the "compromising, collaborating and competing" techniques we studied to negotiate the purchase contract! She also did a great job negotiating the construction contract and loan documents. Gwyn Wheeler did an excellent job running the entitlement process and obtaining a nationwide permit from the Army Corps. She also developed a good relationship with the seller and secured multiple approvals from the local association. Eric Gumm provided creative solutions to overcome potentially challenging site planning issues. Ron Issleb and Ashley Frank worked closely with a new general contractor, Westcore. Luke Porath took time out of his vacation to manage the lender and make sure we hit our closing date. Amy Arpke kept the team up to date on market changes and did a great job preparing the investment committee materials. Finally, Camp Van Dyke, Christina Cahoon and Jake Meier did another great job preparing the investor materials and communicating deadlines.
Thanks again to everyone involved. We look forward to announcing additional closings in the State of Texas in the near future.